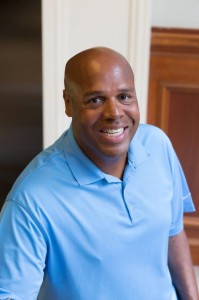 Juan Battle, PhD
Presidential Professor
Graduate Center, C.U.N.Y.
365 Fifth Avenue
New York, NY 10016
jbattle@gc.cuny.edu
(212) 817-8775
---
Juan Battle – academic, author, activist, and feminist – is a Presidential Professor at the Graduate Center of the City University of New York (CUNY); where he holds appointments in Sociology, Urban Education, Social Welfare, as well as the School for Labor and Urban Studies. Additionally, he is currently the Executive Officer [Chair] of the PhD Program in Nursing as well as the former and inaugural Coordinator of the Africana Studies Certificate Program.
With over 100 grants and publications – including books, book chapters, academic articles, and encyclopedia entries – his research focuses on race, sexuality, and social justice. He tends to teach courses centered around statistics, methods, race, and/or sexuality; and has served on and/or chaired over 75 dissertation committees.
In addition to having delivered lectures at a multitude of academic institutions, community based organizations, and funding agencies throughout the world, his scholarship has included work throughout North America, South America, Africa, Asia, and Europe.
Prof. Battle is involved in several research projects.
1. Innovative Career Opportunity & Research Program (ICORP). This program is designed to recruit and train SEEK students across multiple CUNY campuses to conduct research, participate in a summer research opportunity program (SROP), as well as apply to and be accepted into graduate school.
2. Researcher & Thought Partner. Global Education Movement project was housed at Southern New Hampshire University. Working with partners globally, this project worked to provide postsecondary education to refugees living in, among other places, Rwanda, Malawi, Kenya, South Africa, and Lebanon.
3. Principal Investigator. Passing It Forward project, now archived at the Woodruff Library in Atlanta, links the personal stories of Black and Latinx, LGBTQ+ changemaking elders — those around 50 years old and above — to the political and social movements they are connected to.
4. Co-Principal Investigator. Higher Education & Anti-Racism (H.E.A.R.) initiative is housed at the University of Pittsburgh. This initiative systematically analyzes, among other things, anti-racism statements from colleges and universities throughout the United States.
5. Co-Principal Investigator. The Social Justice Sexuality initiative – a project exploring the lived experiences of Black, Latina/o, and Asian lesbian, gay, bisexual, and transgender people in the United States and Puerto Rico.
6. Co-developer & Co-leader. CUNY-wide Mid-career Faculty Fellowship Program, designed to help retain and advance a diverse faculty at CUNY.
7. Fulbright Senior Specialist. He was the Fulbright Distinguished Chair of Gender Studies at the University of Klagenfurt, Austria; and was an Affiliate Faculty of the Institute for Gender and Development Studies (IGDS), The University of the West Indies, St. Augustine, Trinidad and Tobago.
Additionally, Prof. Battle has and continues to serve on a number of boards and steering committees of community based organizations, academic journals, research endeavors, and more.
His board experiences include:
Board Member (2020; President: 2022 – Present), You Gotta Believe; Brooklyn, New York.
Board Member, (2008 – Present), Camp Shohola Scholarship Fund, Greeley, Pennsylvania
Board Member & Chair (2018 – 2020), Freedom Center for Social Justice; Charlotte, North Carolina
Board Member (2018 – 2020), The Joseph P. Addabbo Family Health Center, Queens New York
Board Member (2013; Chair: 2014 – 2019), Griot Circle Inc.; Brooklyn, New York
Board Member, (2012 – 2013), Unity Fellowship Church's National Board
Board Member & Chair, (2007 – 2011), YMCA – [Flatbush] Brooklyn, New York
Board Member, (2007 – 2008), Black AIDS Institute, Los Angeles, California
He is a former president of the Association of Black Sociologists and is the former chair of the American Sociological Association's section on Race, Gender, and Class.
Prof. Battle received his A.S. and B.S. from York College of Pennsylvania. His M.A. and PhD were both received from the University of Michigan.